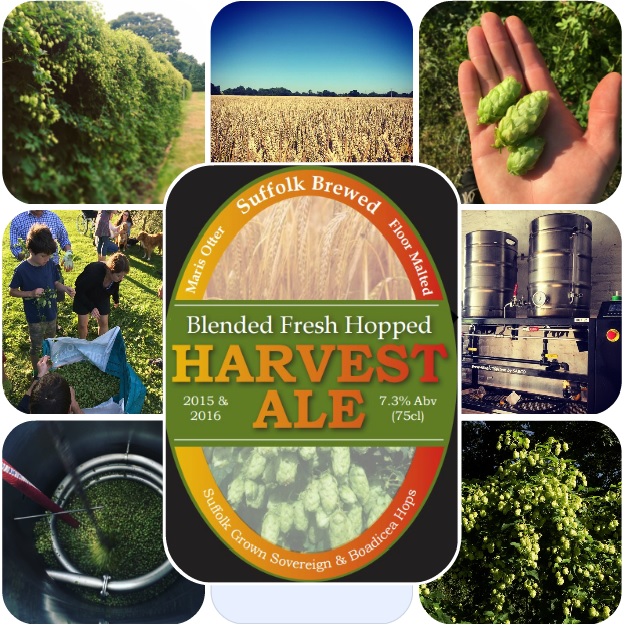 The September 2015 brews were carried out at The Swan, Stratford St Mary in nine batches (well done brewer Ed Razzall) using a 50 Litre Sabco test brew kit from the US. We used East Anglian grown Maris Otter, floor malted to perfection by Crisps at Great Ryburgh, Norfolk. We seasoned the beer exclusively with our freshly harvested/GREEN/WET HOPS Sovereign and Boadicea. Each batch was fermented for a week and racked into new oak barriques crafted by the Radoux cooperage in Jonzac just north of Bordeaux. The Sovereign brewed batches went into French oak and the Boadicea went into American oak. Both stayed in cask for a year until blended with the 2016 vintage.
The 2016 brew was hosted by Tim Dunford of Green Jack Brewery, Lowestoft on their 10 barrel plant on 22nd September. The beers were then blended and racked into kilderkins on Thursday 6th October and then bottled in batches.
Blended Vintage Strong Ales from 2016 & 2015
1078 OG Strong Ale
Green hopped with Sovereign and Boadicea dwarf hops harvested from our hop yards planted in 2013 in the garden of the Swan, after advice from Dr Peter Darby. 100 cultivars supplied by local hop expert & propagator Steven Wright of Aplus Hops in Little Blakenham, Suffolk.

Thanks to the Hop Grower at the Swan, Jane Dorber and hop pickers Alli Everard, Paul O'Hara, Deb and James for their harvest efforts on 21st September 2016.

Brewing Notes For 2015 Vintage:
• 96% Floor Malted Maris Otter | 4% Cara
• Stepped mash at 64°C and 67°C, sparged at 74°C, allowing maximum fermentability of the worts.
• Used first wort hopping, producing a 'finer' bitterness and using fresh Sovereign and Boadicea hops grown at the Swan
• Primary fermentation using two different English yeasts, and held at 21°C to maintain a raised level of ester production.
• Secondary fermentation in wood for twelve months
Brewing Notes For 2016 Vintage:
• Brewed 9bbl
• 92.5% Floor malted Maris Otter | 7.5% Cara
• Mashed at 64.5°C
• First wort hopped with 5.3kg of Boudicea and 10.8kg of Sovereign
• Fermented with Fullers yeast at 22°C for 9 days (OG: 1076.8, FG: 1020.5)
Sign up here to receive a hand picked selection of news, events and special offers at The Swan.